Moderatorin, Deutsch, Englisch, Französisch
Für Deutsche Welle TV moderiert die Amerikanerin die Nachrichtensendung Journal sowie die politischen Talksendungen Quadriga und Capital Cities
Sie hat für zahlreiche öffentliche Organisationen und Privatfirmen Podiumsdiskussionen und Konferenzen moderiert und Vorträge gehalten, war auch selbst häufig Podiumsgast und Kommentatorin im Fernsehen und Hörfunk.
Fachbereiche:
Transatlantische Politik; Frauen, Familien und Bildungspolitik; Klima und Umwelt; Wirtschaft (Globalisierung, Einzelhandel, Welthandel, u.s.w.); Neue Medien, Internet, Kommunikation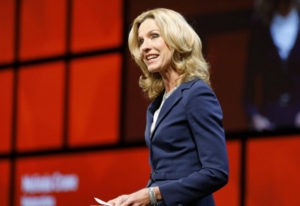 Referenzen:
Moderationen und Gastauftritte bei
Friedrich Ebert Stiftung
Konrad Adenauer Stiftung
Heinrich Böll Stiftung
Checkpoint Charlie Stiftung
Invest in Germany
Scholz & Friends
Medienboard Berlin Brandenburg
Ruhrtriennale
Österreichischer Journalistinnenverband
ZF Friedrichshafen AG
ARD
ZDF
WDR
Phoenix, u.a.
Melinda C. hat Jura an der Harvard Law School studiert und über Politische Ökonomie an der Fletcher School of Law and Diplomacy promoviert. Neben weiteren journalistischen Tätigkeiten arbeitete sie für das New York Times Magazine, den Christian Science Monitor, den Boston Globe die Frankfurter Hefte, Internationale Politik und die ARD.
Dr. Melinda C. presents the news program journal and hosts the talk shows Quadriga and Capital Cities on Deutsche Welle-TV.
She has moderated a wide variety of podium discussions and conferences for public organizations and private sector clients and is a frequent guest and commentator on German television and radio.
Among her areas of expertise are: transatlantic politics; women, family and education issues; climate and environment; business and economics (including globalization, retail, world trade and product promotion); new media and the internet. She has a J.D. from Harvard Law School and a Ph.D. in political economy from the Fletcher
School of Law and Diplomacy in Medford, Massachusetts, USA. Her journalistic experience includes work for the New York Times Magazine, the Christian Science Monitor,the Boston Globe, and several quarterlies and public networks in Germany.
Video:  https://www.youtube.com/watch?v=B6Whz-7CWWw&t=53s
Infos und Buchung: kg [at] moderatorenpool-deutschland.de