Presenter für Action, Sport, Motorsport
Passionate and competitive Gemma was the face of the World Series by Renault for ESPN before moving up the ladder to host F1 and FE live around the circuits. Gemma has hosted a variety of other sports including sailing, power boating, kite surfing and jet skiing and regularly takes part whenever she can! 
Her love of motorsport means her knowledge is second to none and when it comes to interviews, she always ensures she delivers in a friendly chatty manner to get the answers the audience want to hear.
Her energetic style of presenting and the fact she can do it in 2 languages – English & French, makes her a firm favourite for live event hosting.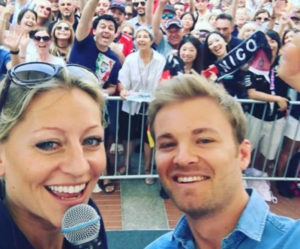 Specialties
Motorsport, Automotive, Sailing, Lifestyle, Corporate, Live Events and Fanzones, French 
Clients
include BT Sport, Homebase, IBuy TV, Argos, World Series by Renault and the World Endurance Championship.
Gemma is based in the South of France and is able to travel easily for engagements worldwide.
Selection of presenting credits TV and Reality
Formula E FanZone (presenter)

Formula 1 FanZone (presenter)

GT World challenge Pitlane Reporter 

Renault World Series – Setanta Sports and BT Vision (presenter)

Formula 2 – Eurosport Live (presenter)

Renault World Series – www.renault.tv

Lotus Elise Trophy – Motors TV (presenter)

GT Cup – Motors TV (presenter)

VdeVUK – Motors TV (presenter and producer)

O2 Wireless Festival – Tiscali Web (presenter)
Video:   https://www.youtube.com/watch?v=QnWVEBkhUC0
Infos und Buchung: kg [at] moderatorenpool-deutschland.de